Case Study - Academy of Managed Care Pharmacy
Academy of Managed Care Pharmacy


The sum of the parts
From omni-challenge, to omni channel, how Tactis helped unify a distributed web experience for AMCP.
The Academy of Managed Care Pharmacy (AMCP) is an 8,000-strong membership organization dedicated to the support of managed care pharmacy professionals. At the time of rebranding, with the goal of refining their identity, the organization was comprised of a distributed presence of websites including AMCP.org, AMCP Foundation, AMCP Learn, JMCP and BBIC, each on a different CMS, serving up an extremely varied user experience, without a single point of entry. In addition, AMCP had the added task of hosting two annual conferences, requiring a more robust website, which was then still outdated and unwieldy.
AMCP approached Tactis with the broad task of unifying their digital presence to make it easier both for users to experience their offerings digitally, as well as for administrators to more easily manage the various sites. Specifically, Tactis was charged with redefining AMCP's web presence, furthering membership advocacy, supporting registration for events, and also looking out for revenue opportunities. In addition, the agency was tasked with incorporating advertising into the final combined site. AMCP was concerned with bringing forward the value of membership as a primarily membership organization.
A mammoth task
Utilizing the agile methodology, Tactis set to work with the discovery process, which included at least eleven one-on-one stakeholder interviews, plus a series of audience engagement workshops, incorporating AMCP's board of directors, committee members, and student member leaders about how they use the site, what they were looking for, what other organizations they had membership in. Ultimately, the goal was to uncover what unique value users required from AMCP, and how the agency could bring that to life.
A unified experience
In addition to restructuring AMCP.org, Tactis coordinated with all of AMCP's vendors to provide skins for the organization's ancillary sites. The result was a streamlined look and feel across all touchpoints, plus a unified navigation, optimized by Single Sign On. In addition, Tactis provided the membership platform with skins, helped with wireframes, and enhanced ANCPs membership directory. Optimizing AMCP's technology quotient, Acquia Lift was installed to the Drupal 8 CMS, and Swiftype, an elastic search tool was implemented, allowing for search returns from other sites that had not been developed in Drupal. The final outcome? A successful unification of the AMCP digital universe, ensuring a streamlined entry point and navigation for AMCP's many members and an easy-to-manage website backend for administrators – from omni-challenge, to omni channel.
Following a company rebrand, Tactis redesigned the entire website to match the new look of AMCP.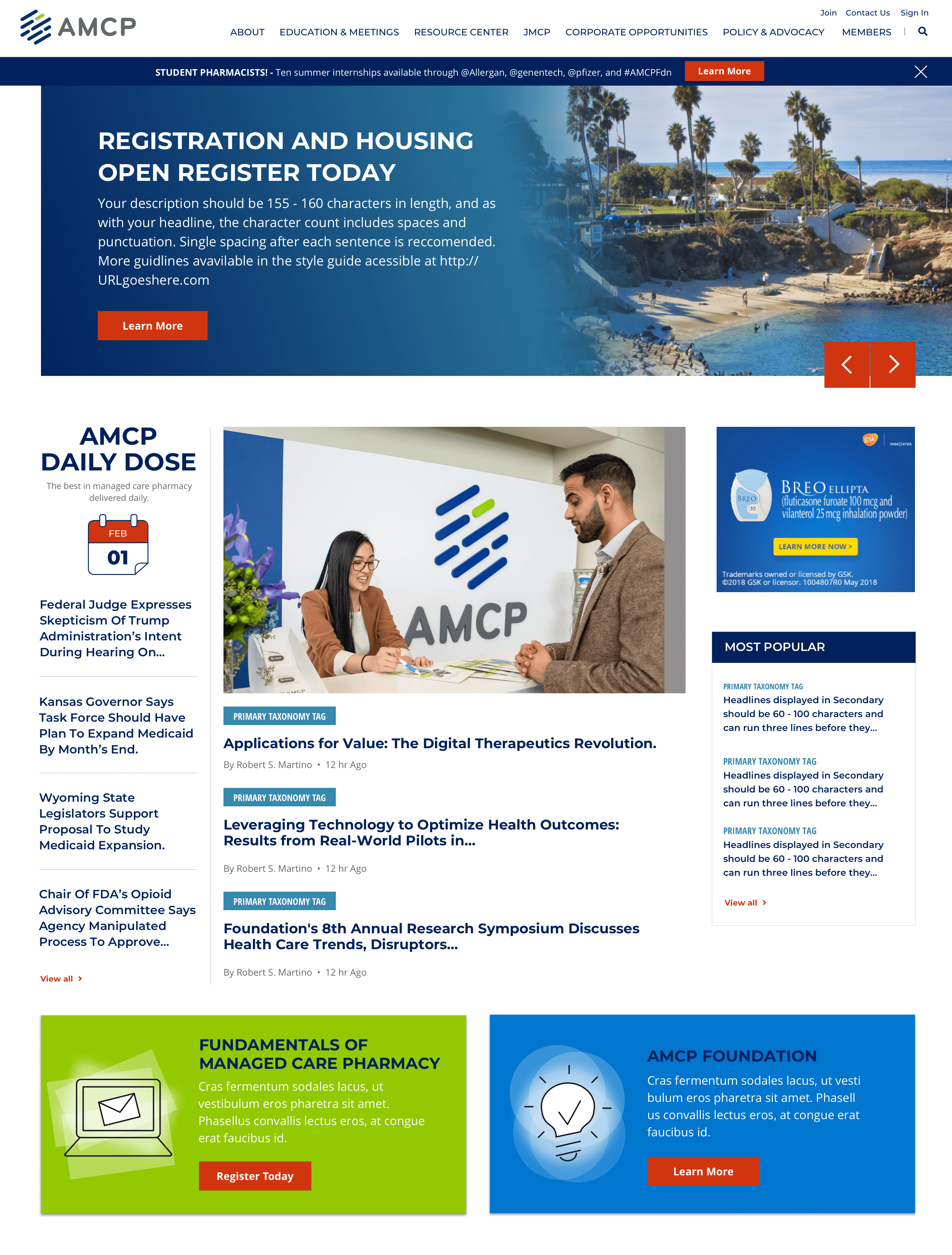 The value of AMCP membership was displayed in 5 key categories (Leadership, Network, Advocacy, Knowledge, Edge)
The new design features bright colors, bold messaging, and clear iconography