Case Study - Conference of State Bank Supervisor
Conference of State Bank Supervisors (CSBS)


The roadmap to a modern banking regulatory network
How Tactis is helping transform the old patchwork quilt of financial regulation into a blanket system that empowers as well as protects.
With the unprecedented growth of the Fintech sector in America – the name given to the growing amalgam of computer programs and technologies used to support or enable banking and financial services – it has never been more important to have an updated regulatory approach for banking, one that supports innovation while protecting consumers across America. The Conference of State Bank Supervisors (CSBS), a nationwide membership and advocacy organization of financial regulators from all 50 U.S. states and territories, is doing just that. But to successfully transform the nationwide multistate licensing system into an end-to-end technology platform, CSBS discovered it needed an agency partner not only at the forefront of technological innovation, but one that understands the growing multi-touchpoint needs of both clients and consumers in the bourgeoning 'always on' financial sector, one where increasingly all financial transactions occur through an assortment of digital devices and touchpoints.
Roadmap to harmonizing multi-state practices
With over 20 years active in both the technology, regulatory and financial communications sectors, Tactis was selected to partner with the regulatory body as it works to harmonize multistate practices and develop a next-generation technology platform. CSBS's charge was twofold, one, support the organization with major maintenance and enhancements, and two, help build a roadmap for future implementations. Tactis set to work with discovery, a process that included stakeholder interviews, user experience testing, a heuristic review of CSBS's digital properties, design updates and ongoing development with the eye on improving the user experience for the public facing site as well as the part of the site that lives behind the log in. Next it prepared the stage for spearheading the roadmap and the planning process, initiating regular strategy sessions. Technology partners and integrations include CVent, IMIS (extending well beyond Single Sign On), Drupal 8, and Acquia for hosting.
Embracing change
Tactis's partnership is both ongoing and successful. "I want to see us pushing outside of our comfort zone to become a stronger state system, for both my fellow state supervisors and our federal counterparts – to embrace change," was the dream of Bret Afdahl, CSBS's Immediate Past Chair. Tactis works each day to live up to this dream, and continues to function as a leading technology partner, using innovation and experience to continue to serve as a trusted omnichannel partner to both help with the future harmonization of multistate practices, and develop a next-generation technology platform.
Redesigned CSBS Website Homepage
The newly redesigned website features easy to digest content, a modern layout, and bold new accent colors.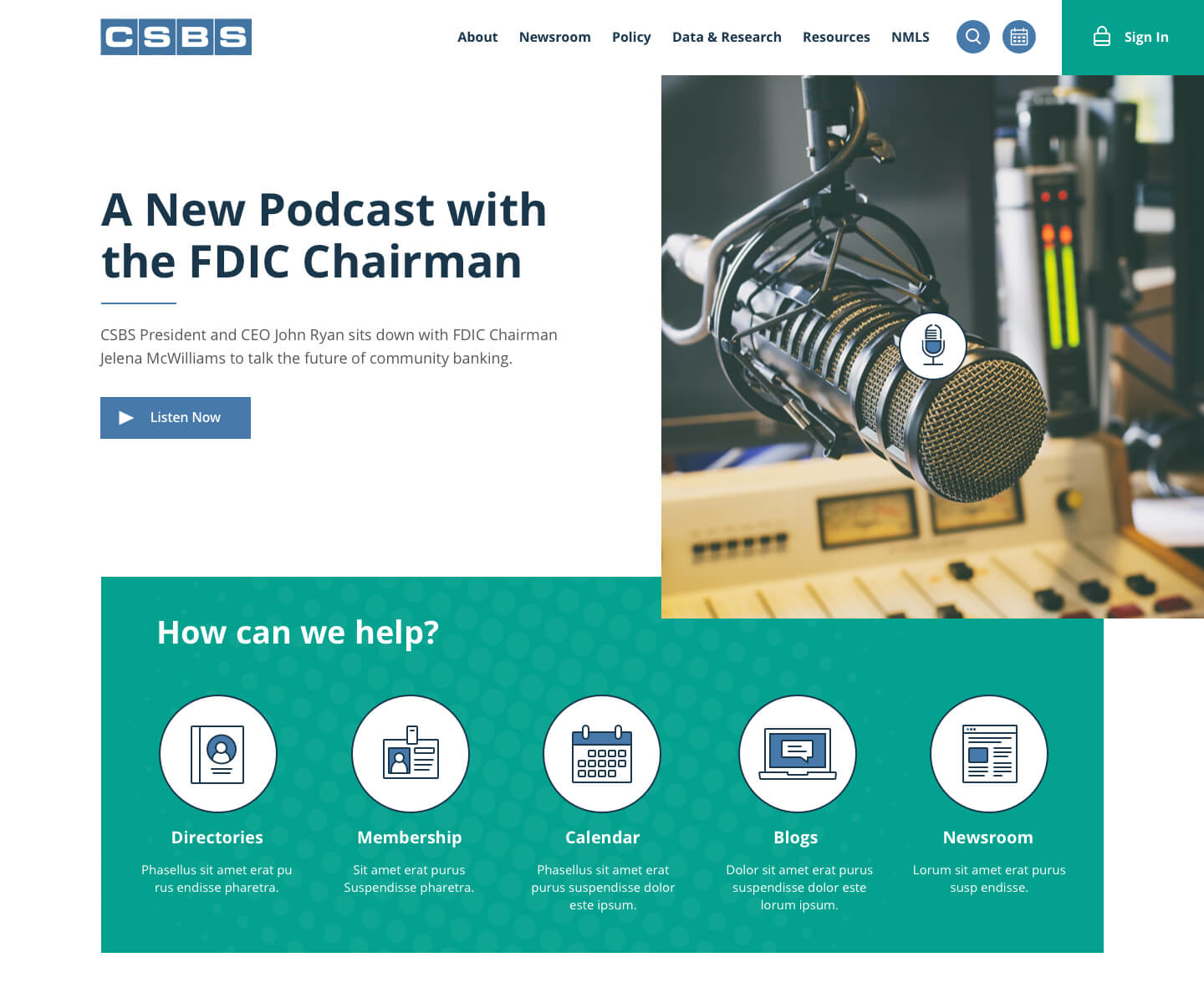 Interior detail pages also received a refreshed look and clear hierarchy of content (Dynamic overlapping content blocks, bold headlines, and clear iconography)