Consumer Healthcare Products Association (CHPA)
The Consumer Healthcare Products Association (CHPA)


Taking the pain out of web administration
The Consumer Healthcare Products Association (CHPA) is a 138-year-old national trade association representing the leading manufacturers and marketers of over-the-counter medicines and dietary supplements. Not only do CHPA members' products provide millions of Americans with safe, effective, and affordable therapies to treat and prevent many common ailments and diseases, the association provides leadership and guidance on regulatory and scientific issues to government. CHPA's web presence at the time, which took the form of a loose collection of microsites built on different platforms, had become unwieldy, resulting in brand inconsistency, governance issues, difficulty with navigation, plus an extended number of clicks until completing a conversion. Tactis was chosen to support CHPA's website redesign and redevelopment effort. 
The Client as Partner 
From the outset, Tactis took the approach of 'client as partner.' Its discovery phase included an initial week of preparation, review, and research followed by a co-design workshop with CHPA program areas and stakeholders to ideate the experience of the new CHPA website. Working in collaboration with CHPA, the Tactis design team translated wireframes, clickable prototypes, and other layout artifacts into visually engaging page designs. In addition, Tactis worked with CHPA to ensure a seamless activation of the new CHPA brand across mobile and desktop modes to provide a stellar experience on both mobile and desktop platforms. Drupal also replaced Ektron as the Content Management System (CMS) as per CHPA's needs – an open-source platform was integral to solving their problems. Tactis integrated the Blue Sky Learning Management System so that the new Drupal website could display learning materials, courses, and other offerings without requiring an administrator to enter the data in both the LMS and the Drupal website. Finally, the Tactis search marketing team conducted an SEO review which resulted in a list of targeted keyword phrases that could be integrated into the content of the CHPA website. This helped Tactis develop meta-content for each page of the CHPA site to reiterate keywords identified in its keyword research.  
Where Rx Meets UX 
The new CHPA website boasts a vastly improved user experience (UX). For the first time, CHPA staff can administer the site in a singular, seamless way. Post-launch, Tactis continues to analyze critical data points including user paths, abandonment rates, scroll maps, eye-tracking, time spent on-page, and social engagement. With this user data in mind, Tactis, working alongside CHPA, makes appropriate recommendations for iterative page improvements. To help facilitate management of the new site, Tactis conducted a series of training sessions with CHPA staff members. Training sessions were tailored to specific user groups and recorded the sessions for ongoing training requirements. Each month the KPIs are being met, and the prognosis for future KPI success is promising. And with site goals achieved, the chemistry between Tactis the CHPA endures. 
CHPA hosts frequent events and wanted a way to feature selected events while still giving users access to the full calendar and media representatives.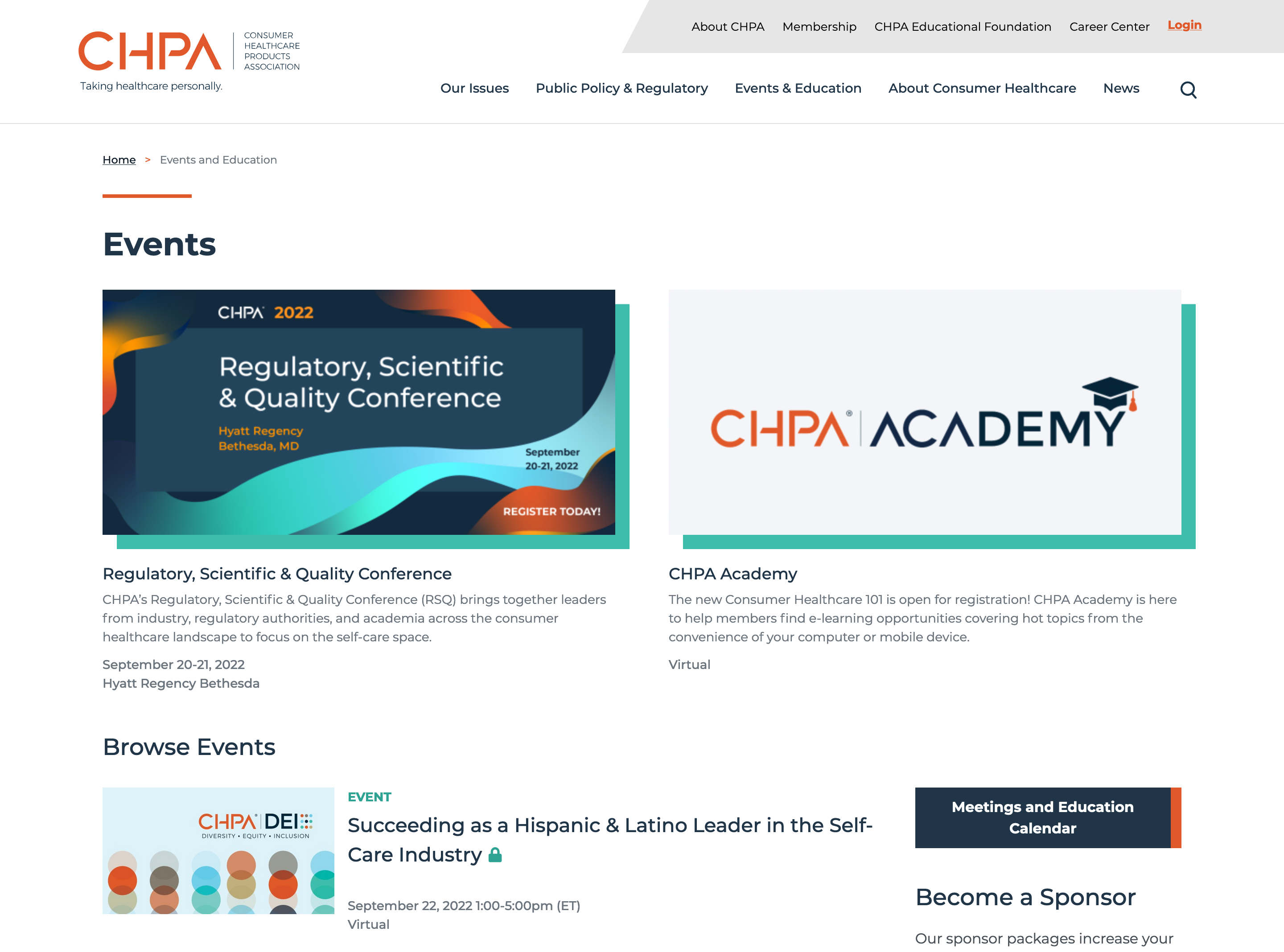 CHPA Homepage Hero & Issue Bar
The top of the CHPA homepage functions as a place to feature timely content and introduce users to important CHPA issues.